Taxi transfer from Pula to Rovinj
Looking for professional, reliable, and affordable private transfer from Pula Airport or Pula city center to Rovinj?
All-inclusive price for the whole taxi, black limo, or a minivan
With our taxi & limo service, you will travel comfortably and safely from Pula to Rovinj or vice versa. You can choose between a few vehicle classes that we have to offer including luxurious Mercedes Benz.
Our transportation service is a door-to-door private transfer without sharing with others. Hire a chauffeur-driven car for your transfer from Pula to Rovinj exclusively for you and your friends or family members.
One-way private door-to-door taxi transfer. The whole car is just for you and the people who are with you.
Contact us if you are interested in a sightseeing tour on the way
Standard class (Audi A4, WV Passat, and similar less than 8 years old)
Business-class (Mercedes E, Audi A6 less than 8 years old)
Premium-class (Mercedes E less than 4 years old)
8+1 Minivan
20+1 Minibus
One way transfer
Pickup location at your accommodation or the airport
Waiting at the arrivals (driver holds a name-plate)
Drop-off at your accommodation
Your group of up to 4 passengers
High-Way Tolls
WI-FI
Bottled water
A short stop on the way if you need to
Additional stop and waiting longer than 15 minutes (except waiting at the airport) or change of destination
Sightseeing tour on your demand (ask for a quote)
Booster or baby seats
Contact us if you are interested in a sightseeing tour on the way
Ask for the best offer
Our offer will include affordable family sedans and luxurious limousines at flat rates for the whole car.
Excellent chauffeur service. The requested timing was perfectly respected. We were very well welcomed, and the driver was very helpful when needed.
@Mue, Kuala Lumpur

Istria premium taxi service we provide: Istria airport taxi, rent a car with a driver, private sightseeing tours, and private city to city or cross-border transfers. We do not accept classic taxi rides within Pula.
Book your airport taxi before you arrive in Istria and we will meet you at arrivals holding a name-plate. Flat rate price from or to the airport transfer without hidden fees. Free flight following and waiting at any of the airports in Istria.
Ask for a quote for any sightseeing private excursion from Pula by a chauffeured car.
We are specialized in long-distance rides and we are at your service for the intercity (extra-urban, city-to-city), or cross-border individual transfer from/to Istrian towns by a car. Also, you can ask for a quote for a return, waiting, or sightseeing on the way.
Hire your personal chauffeur for your business meetings in Istria. Choose from a few vehicle classes that we have to offer such as affordable sedans or business-class limousines. Private hire of the car with a driver can be hourly or a daily charged.
Don't hesitate to ask for a quote if you have a more specific question about your journey in Croatia.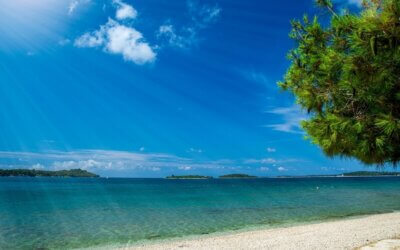 The Istrian coastline of almost 540 kilometers is home to countless beautiful beaches that attract...
read more