Transfer from Podgorica to Budva
Looking for a professional, reliable, and affordable private transfer from Airport or city center to Budva?
All-inclusive price for the whole taxi, black limo, or a minivan
With our taxi & limo service, you will travel comfortably and safely from Podgorica to Budva or vice versa. You can choose between a few vehicle classes that we have to offer including luxurious Mercedes Benz.
Our transportation service is a door-to-door private transfer without sharing with others. Hire a chauffeur-driven car for your transfer from Podgorica to Budva exclusively for you and your friends or family members.
One-way private door-to-door taxi transfer from the city of Podgorica or Podgorica airport by car. The whole car is just for you and the people who are with you.
Contact us if you are interested in a sightseeing tour on the way
Standard class (Audi A4, WV Passat, and similar less than 8 years old)
Business-class (Mercedes E, Audi A6 less than 8 years old)
Premium-class (Mercedes E less than 4 years old)
8+1 Minivan
20+1 Minibus
One way transfer
The pickup location is at the airport arrivals or address of your accommodation
Waiting at the arrivals (driver holds a name-plate)
Drop-off at your accommodation
Your group up to 4 passengers
High-Way Tolls
WI-FI
Bottled water
A short stop on the way if you need to
Additional stop and waiting longer than 15 minutes (except waiting at the airport) or change of destination
Sightseeing tour on your demand (ask for a quote)
Booster or baby seats
Contact us if you are interested in a sightseeing tour on the way
Ask for the best offer
Our offer will include affordable family sedans and luxurious limousines at flat rates for the whole car.
Excellent chauffeur service. The timing we asked was perfectly respected. We have been very well welcomed, and the driver was very helpful when we needed it.
@Mue, Kuala Lumpur

What to do and see in Budva Montenegro?
Budva is a popular tourist destination located on the Adriatic coast of Montenegro. There are many things to do and see in Budva, including:
Visit the Old Town, which is a well-preserved medieval town with narrow streets, historic buildings, and a Venetian fortress.
Relax on one of the many beaches, such as Mogren Beach and Slovenska Beach, which offer beautiful views and clear waters.
Take a boat tour to nearby islands, such as Sveti Stefan and St. Nicholas Island, which offer picturesque landscapes and great swimming spots.
Explore the Budva Marina, which is home to luxury yachts and boats, as well as a variety of restaurants and shops.
Visit the Budva City Museum, which houses artifacts and exhibits that showcase the history and culture of the region.
Attend a performance at the Budva City Theater, which hosts a variety of cultural and artistic events throughout the year.
Visit the nearby towns of Sveti Stefan, Petrovac, and Becici, which offer additional beaches and points of interest.
It's also worth noting that Budva is a good base for exploring the other beautiful places in Montenegro such as Kotor Bay and Durmitor National Park.
You can hire Balkan Chauffeur for the private transfer from Podgorica to Budva, but also for the private day trip to Budva and the surroundings with the same day return to Podgorica. Also, you can ask for a car transfer with sightseeing stops on the way such as a visit to the historical town of Cetinje. A short sightseeing stop on the viewpoint with a panoramic view of Budva and Adriatic sea is free of charge.
Don't hesitate to ask for a quote if you have a more specific question about your journey in the Balkans.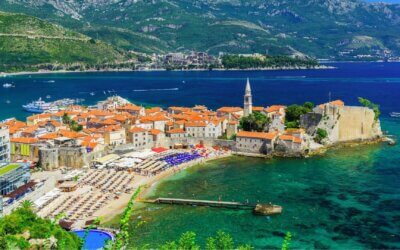 If you're looking for a breathtaking beach getaway in Montenegro, look no further than the Budva...
read more