If you are looking for a reliable, comfortable, and affordable airport Taxi service in Tivat, Balkan Chauffeur is at your service. You can book with us not just an airport transfer. We are there for your business trip or a private tour in Montenegro.
Transfer to or from Tivat
Balkan Chauffeur is a premium taxi and a limo service specialized for an airport taxi service and long-distance private transfers by car.
With our network of transportation partners in Tivat, we can arrange your ground transportation from or to the international airport in Tivat(Iata: TIV), Montenegro.
You can ask for a quote for a private transfer to any city in the region. The most popular taxi transfers from Tivat are rides to Budva, Podgorica, Bar,  Ulcinj, Kotor, Herceg Novi, Podgorica, Dubrovnik, Split, Tirana, Priština, Belgrade, but we are at your disposal to drive you to anywhere else in the Balkans region.
Excellent chauffeur service. The timing we asked was perfectly respected. We have been very well welcomed, and the driver was very helpful when we needed it.
@Mue, Kuala Lumpur
Our partner's vehicles must be newer and comfortable and large sedans such as Škoda Octavia, but in some cities, we can also offer premium class vehicles like the Mercedes E or S class.
Our partners in Tivat are selected professional drivers licensed to provide taxi services in the area they cover. In addition to kindness and professionalism, the English language is mandatory.
Long-distance transfer from Tivat with us is cheaper than an intercity ride charged by taximeter because we are exclusively engaged in long-distance travel, so our flat-rate lower price provides us with a lot of work every day.

The premium taxi service we provide is booking in advance of a taxi from or to the Tivat airport, rent a car with a driver in Tivat (black car limo service), private sightseeing tours in Montenegro, and private long-distance intercity or cross-border transfers by a chauffeured car. We do not accept classic (short) taxi rides within Tivat.
Tivat Airport Taxi
Book your airport taxi before you arrive in Tivat and we will meet you at arrivals holding a name-plate. Flat rate price from or to the airport transfer without hidden fees. Free flight following and waiting at the airport.
City to city Transfer to or from Tivat
We are specialized in long-distance rides and we are at your service for intercity (extra-urban), town to town, or cross-border individual transfers by a car.  Book your door-to-door transfer to/from Tivat or Podgorica.
Montenegro Private Tours
Ask for a quote for any sightseeing private tour by chauffeured car in Montenegro. Make your custom-tailored taxi tour with a return or one-way ride. We can drive you to various tourist attractions and places of interest in Montenegro, Croatia, or Bosnia on a day-trip from Tivat.
Tivat Limo service
Hire your personal chauffeur in Tivat and choose from a few vehicle classes that we have to offer. We have affordable sedans but also we have more luxurious limousines on your demand. Private hire of the car with a driver for your business trip can be hourly or a daily charged limo service.
Don't hesitate to ask for a quote. Contact Balkan Chauffeur for your journey or renting a chauffeured car.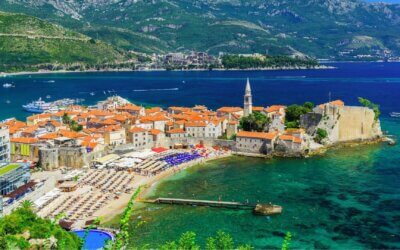 If you're looking for a breathtaking beach getaway in Montenegro, look no further than the Budva...
read more